Heartfelt Thank You Messages with images – appreciation quotes on thankfulness. Say thank you when they go for a walk with you. Just say thank you when you feel like you should say it. One of the sweetest gestures that one can show – is saying "Thank You" to anyone that he or she may feel grateful to. Whenever someone does something positive for you; without hesitation, say thank you to make sure you appreciate the gesture. Say thank you when they go for a walk with you. Just say thank you when you feel like you should say it. See more ideas quotes about thank you quotes, be thankful quotes, appreciation quotes, congratulation messages, thank you messages, quotes about gratitude.
Thank you Messages
#1. Thanks for letting me be in your home. Thanks again for all the wonderful memories and food too. You're such a great host!
#2. Thank you for your unconditional love and useful advice! I will forever be grateful to the Almighty for sending you into my life! Thank you so much for your support, mate!
#3. Your support and encouragement have always been the driving factors in my life. I want you to know that I appreciate your cordiality with all my life!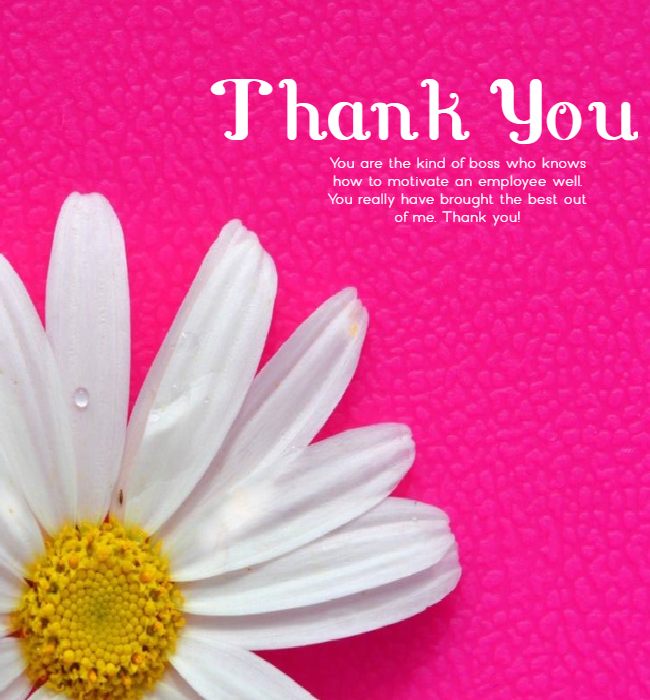 #4. Thanks for being the shoulder I can always depend on.
#5. Thank you for always encouraging me with your warm words. You have no clue how many times you have saved me from my mental breakdowns. Thanks for healing me, thank you very much!
#6. That thank you so much for being the light whenever I feel lost. You inspire me and make me want to become a better human being!
#7. I don't know of anyone who can inspire people as you do. Your words are just as brilliant as you are! Thank you!
#8. You have such a profound impact on my life that even the biggest thank you text would fall short to express my gratitude!
#9. Thank you so much for having me, I'm too full to even write a thank you note! Thank you very much for the great treat!
#10. Thank you won't be enough for what you've done for me. But, let me try a little. Thanks a lot for your support!
#11. My heart is overflowing with gratitude. Thanks from the bottom of my heart!
#12. I appreciate everything you do for me with so much care. Thank you!
#13. Your thoughtfulness always touches my heart. Thanks a ton for everything!
#14. Kindness is just what you do, and you do it so well! Thank You!
#15. Thank you for being my biggest inspiration and my warmest supporter! You are a rare find, and I feel lucky to have you in my life! Thank you for being my constant!
Short Thank You Message
#17. "Saying thank you is more than good manners, it is good spirituality." —Alfred Painter
#18. "Kindness is a language which the deaf can hear and the blind can see." —Mark Twain
#19. "When I started counting my blessings, my whole life turned around." —Willie Nelson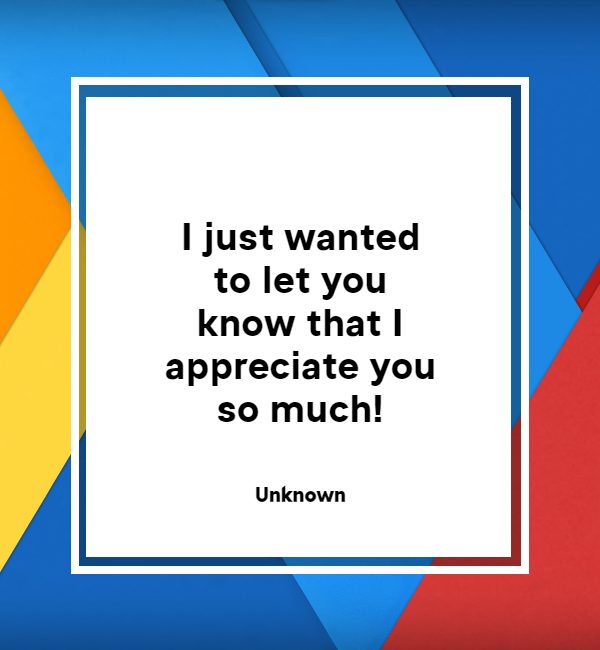 #20. You've done something so nice, and I appreciated it more than you'll ever know.
#21. Your generosity warmed my heart. I can't thank you enough.
#22. You made my day! Thank you so much!
#23. Saying "thank you" doesn't seem like enough, but it's a start!
#24. Good eats, good friends, good times Thanks a million!
#25. I have gratitude overload! THANKS, A WHOLE LOT!
#26. You've always believed in me. Thank you.
#27. Everything that you do makes a difference in somebody's life. Thank you so much for that!
#28. Joy is bubbling over in my heart because of you!
#29. The love of God is always present in your actions. Thanks so much!
#30. Bunches and bunches of thanks! My heart is still all fuzzy!
#31. How did you know this was exactly what I needed? Thank you, thank you, thank you.
#32. "There is always, always, always something to be thankful for." —Anonymous
Thank You Message For Support
#34. Has someone helped you out? Be sure to take the time to relay your gratitude.
#35. You inspired and supported me in my dark times. I am so thankful to God that He has blessed me with you. Thank you for your unconditional love and support.
#36. I am grateful for your help.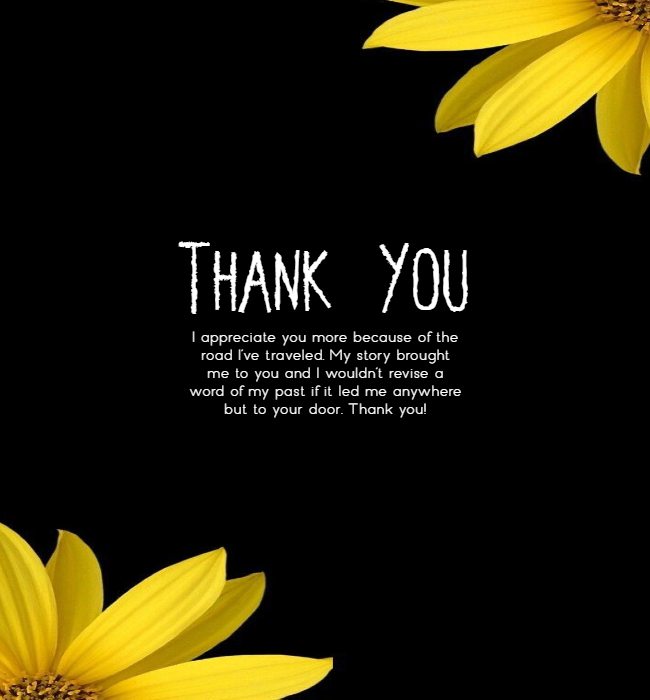 #37. I very much appreciate your support.
#38. Thank you for your support.
#39. I appreciate your help.
#40. I cannot express how grateful I am that I've you both in my up and down. I couldn't have done this without your support. Thanks!
#41. Thank you for being there for me when I needed you the most. Your support put me at ease during my tough time. Thanks a million!
Thank You Messages For Help
#43. When you're requesting something from an individual or an organization, be sure to add "thank you for the Help" or one of the following options to your email or letter:
#44. I'm so blessed to have you in my life. Thank you for volunteering all your time and efforts to help me out. I'm incredibly grateful and won't forget this.
#45. I am very grateful for your help.
#46. I appreciate your help and look forward to hearing from you.
#47. You have given me encouragement and hope in a difficult time. I am grateful for your support and help. Thanks for being there for me.
#48. I don't know how to properly show my appreciation, but I hope this message is a start. Thank you for your friendship and your help.
Be Thankful Quotes messages
#50. Sometimes we all need a reminder to be thankful. Having gratitude for each other makes us all feel good. If you're struggling to find the words to say thank you and appreciation, you can always use quotes about being thankful.
#51. We could all use a little reminder for the many things we have to be thankful for, no matter how big or small. Use these motivational quotes in cards or display them around the house to remind yourself why you're thankful.
#52. "For one minute, walk outside, stand there, in silence. Look up at the sky and contemplate how amazing life is." —Anonymous
#53. "I want to thank you for never being there anymore. Your absence has forced me to find my own way." —Anonymous
#54. "We can only be said to be alive in those moments when our hearts are conscious of our treasures." —Thorton Wilder
#55. "Be grateful for what you already have while you pursue your goals. If you aren't grateful for what you already have, what makes you think you would be happy with more." —Roy T. Bennett
Thank You Message For Kindness
#57. You went above and beyond in helping us move, and we are so grateful for your help.
#58. Anytime that someone lends a helping hand moving furniture, walking your dog, or housesitting—or offers assistance during a difficult or busy time in your life—acknowledge their kindness with a note of thanks.
#59. If I say "Thank You" a thousand times, that still wouldn't be enough to make you know how happy I am because of your kindness! Thanks!!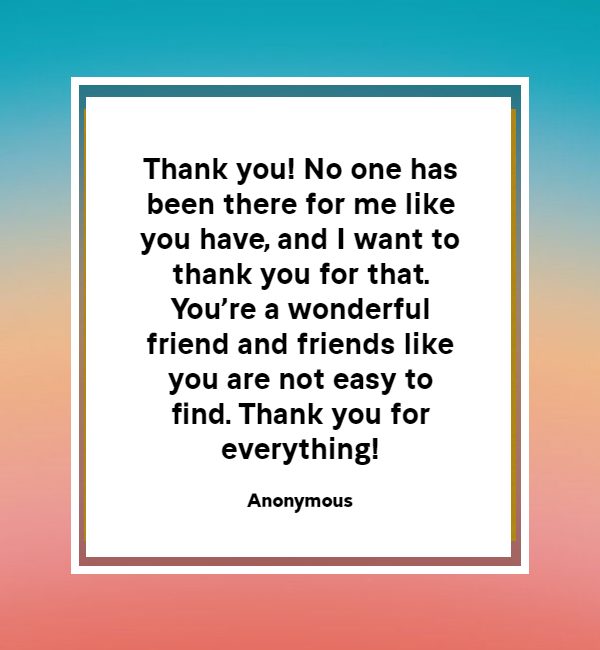 #60. I can't really find the exact words to express how deeply I was moved by your kindness. So, I'll sum it up with a simple THANKS!
#61. Your kindness is a great blessing to us. Thank you so much.
Thanks for Wishes
#63. Use these phrases to let someone know how much you appreciate what they have done for you:
#64. Thank you for all the sweet and warm wishes. I appreciate every single wish that I received. May God bless you all.
#65. Thank you all for the wonderful birthday wishes. They really mean a lot to me! God bless you all.
#66. I appreciate the information and advice you have shared.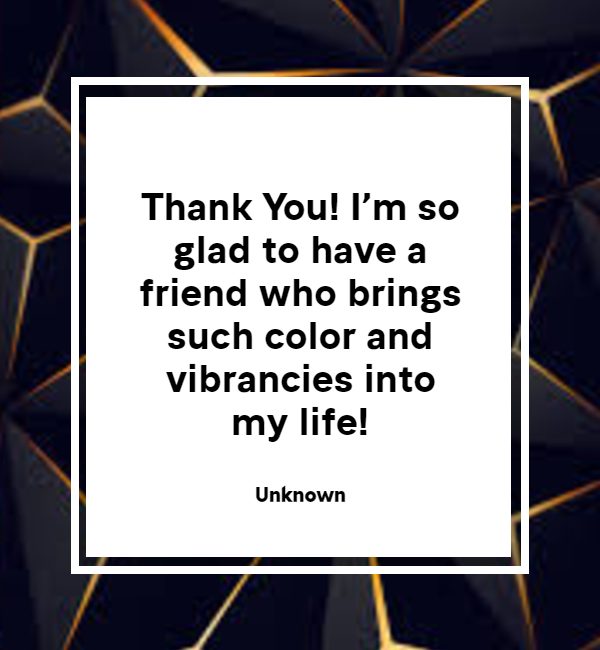 #67. I sincerely appreciate the assistance.
#68. Thank you for the assistance you have provided me with during my job search.
#69. Thank you for all the help you have given me with my job search.
#70. Thank you for speaking with me. Your insights were truly helpful.
#71. Thank you for your assistance.
#72. Thank you for everything you do.
#73. You are always so helpful.
#74. You are the best.
#75. Thank you all for your sweet birthday wishes. I sincerely appreciate your blessings and love!
#76. Thank you for your birthday messages. I'm overwhelmed by your beautiful words and love on my birthday.
#77. Thank you for spending time with me.
Thank You Messages For Love and Care
#79. Thank you from the bottom of my heart for always treating me with warm words and gentle love! You make me feel comfortable and I cherish you so much!
#80. Thank you for being so caring! I am truly grateful to have a wonderful friend like you.
Thank You Message For Gift
#82. Thank you for the pretty shirt. And it's my favorite color! You know me so well.
#83. The purse you got me is so cool. I immediately put all my things in it and am using it already!
#84. am ready for college thanks to the awesome messenger bag you gave me as a graduation gift. I really appreciate your generosity.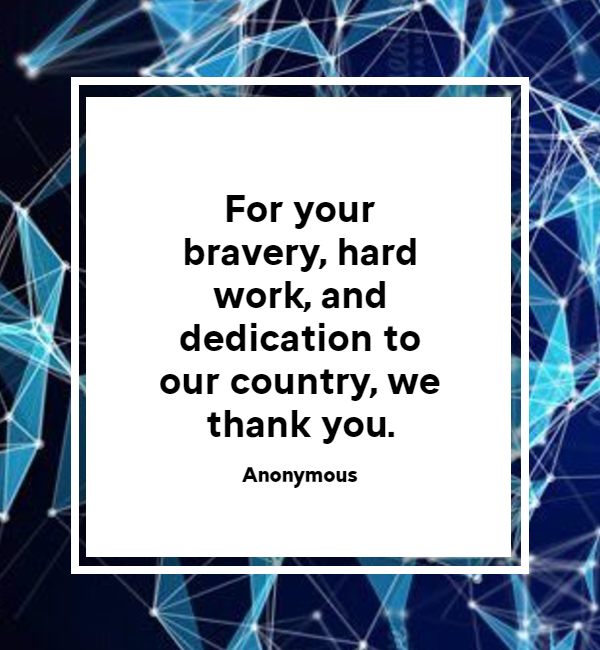 #85. The outfit that you got for the baby is so stinking cute, and he's going to look so handsome in it. I will be sure to send you a picture when he wears it. Thank you for thinking of him!
#86. I don't know how you came about this idea. But god knows how surprised I am right now. It's the most beautiful gift ever! Thank you!
#87. Thank you so much for sending me such a cute gift. Your awesome gift-giving choice touches me.
#88. Thank you so much for your wonderful gift. I will forever preserve this gift and keep it to me forever.
#89. I appreciate your gift just as much as I appreciate you. You have a very peculiar ability to impress people. Many thanks to you!
Thank You For Birthday Wishes and Attending Party
#91. Thank you for giving me your precious time and coming to my birthday party. It was a pleasant experience with you. I'm touched by your love.
#92. Just by looking at your gift, I realized what a tremendous amount of thought you had to put before finally buying it. It's beyond amazing. Thank you so much!
#93. The birthday messages just put a smile on my face. Thank you for making me feel special on my birthday.
#94. It is so hard for me to put my thoughts about you into words. I can only say that I am so thankful to you for blessing me with your presence on my birthday!
Thank You Quotes for Mom
#96. It's important to remind Mom how thankful you are for her, no matter what age you are. Make a point to show your appreciation in a big way with a personalized thank you quote for Mom. She won't be able to stop smiling after she receives this sweet note filled with gratitude. She deserves it!
#97. "Thank you for being my heart's first home. I love you, Mom." —Anonymous
#98. "Sometimes we need someone to simply be there. Not to fix anything, or to do anything in particular, but just to let us feel that we are cared for and supported." —Anonymous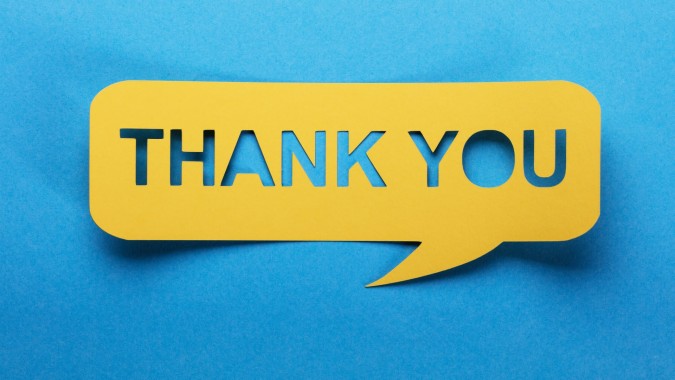 #99. "Thanks for never asking for reasons or explanations when all I wanted was a long hug and a few laughs." —Anonymous
#100. "A mother is the truest friend we have when trials heavy and sudden fall upon us; when adversity takes the place of prosperity; when friends desert us; when trouble thickens around us, still will she cling to us, and endeavor by her kind precepts and counsels to dissipate the clouds of darkness, and cause peace to return to our hearts." —Washington Irving
Thank You Messages For Friend
#102. Trying to put into words how much your friends mean to you is nearly impossible, right? That's why we've let the experts put these emotions into words for us. These thank you quotes for friends are sure to let your BFF know just how much he/she means to you. Add these words to a custom calendar with photos of you and your best friend for a fun gift.
#103. Your words of encouragement inspired me during a difficult time. You'll never know how much your help meant to me. Thank you.
#104. Thanks for all your help and encouragement. You make me feel seen and heard, and I love you for that. I hope you know how special you are to me.
#105. You never fail to make me smile. Thanks so much for your help and support!
#106. I don't usually say thank you to a friend. But for you, I'll first give you a big hug and then say thank you for everything!
#107. If I say thank you for every good moment this friendship had offered me, you'll literally be crushed under all those thanks! But thank you anyway!
#108. A friend like you is the most precious gift that anyone can receive from God. I want to Thank You for being my only best friend!
#109. I cannot imagine my life without you. Whatever I am today would never be possible without your support and help. You are always a reason to smile. I'm grateful to have a friend like you.
#110. Thanks for being not only my friend but also for being my brother, my soulmate, and my supporter. It feels good to be your best friend!
#111. Thanks for making my every day a friendship day. Thanks for being my best friend for life. You deserve every thank you. I've never said!
#112. Thanks for being there for me when I really needed you. I appreciate you so much.
Thank You Messages For Family
#114. You are the reason behind my every triumph and every achievement! I am deeply humbled to have a remarkable and supportive family like you! Thank you for everything!
#115. Meeting you has been the most rewarding moment of my life. For your patience, kindness, advice, and devotion, thank you.
#116. One of the best blessings that God has ever given me is YOU! I can't possibly repay you. THANK YOU SO MUCH!!
#117. The gift of a family is incomparable. You are the source of my strength and sustenance, thank you for your devotion, moral support, and loyalty.
Thank You Messages For Colleagues
#119. You are like a corporate teacher, who knows everything in the office. Thanks for teaching me so many things yet not asking for a salary!
#120. Your bright personality and sincere work ethic have always been an inspiration to me! Thank you for being a remarkable worker! We are lucky to have you here!
#121. Thank you for being a reliable colleague to me! You bring out the best in everyone and generate positivity through your words and actions. Our office owes you big time!
Appreciation Quotes
#123. Use a few quotes about appreciation in your thank you notes to recognize your card recipient in a one-of-a-kind way. Adding a few appreciation quotes to your thank you card message will shine a light on your grateful heart, especially if you're sending holiday cards. Appreciation quotes help let your loved ones know why you're thankful for them.
#124. "Change your expectation for appreciation and the world changes instantly." —Tony Robbins
#125. "I appreciate you more because of the road I've traveled. My story brought me to you and I wouldn't revise a word of my past if it led me anywhere but to your door." —Aaron Polson
#126. "You changed my life without even trying, and I don't think I could ever tell you how much you mean to me. I can't imagine what things would be like if I hadn't met you." —Steve Maraboli
Thank You Messages for Boss
#128. You had seen potentials in me that even I myself couldn't see. I can thank you for the rest of my life and still, it wouldn't be enough!
#129. You helped me to become a better version of myself from inside and out. I will always be grateful to you for the changes that you brought in me. Thank You!
#130. You are the kind of boss who knows how to motivate an employee well. You really have brought the best out of me. Thank you!
#131. The correctness of your ideology and work ethics has always inspired me to become a performer good performer and a good human being. Thank you, sir, for being the person you are!
#132. Thank you for always trusting me with challenging tasks. I must say that I am so humbled by your confidence in me.
Gratitude Quotes
#134. A great way to elevate your thank you card sayings is by reminding yourself what you have to be thankful for. What better way to do so than with a few quotes about being grateful? Quotes provide a source of inspiration for your personalized card and serve as the perfect way to show your gratitude when you may be at a loss for words.
#135. "Develop an attitude of gratitude and give thanks for everything that happens to you, knowing that every step forward is a step toward achieving something bigger and better than your current situation." —Brian Tracy
#136. "As we express our gratitude, we must never forget that the highest appreciation is not to utter words, but to live by them." —JFK
#137. "A moment of gratitude makes a difference in your attitude." —Bruce Wilkinson
#138. "When we focus on our gratitude, the tide of disappointment goes out and the tide of love rushes in." —Kristin Armstrong
Thank You Message for Doctor
#140. You were always so determined to cure me with all that you have. I am grateful to you because you're the reason why I'm alive and still kicking. Thank you!
#141. Thank you for everything that you have done for me; the hospital environment had always made me nervous, but you made it bearable. Thank you for all of your services.
#142. Thank you for never giving up on me. You always kept the hope alive for me and my family. Your service will never be forgotten!
#143. You are a role model for every doctor in this profession. You have proved to us once again that good doctors do exist in our society. Thank You!
Giving Thanks Quotes
#145. Thankful quotes are a great way to summarize everything you feeling toward your loved ones. Take a moment to thank them for any gifts they've sent for Christmas or the holidays, and include one of these thankful quotes to show your appreciation.
#146. Adding a couple of quotes about giving to your thank you note is the perfect way to personalize your thank you message. Think about what exactly you are thanking this person for and take this chance to customize your greeting even more.
#147. "For it is in giving that we receive." — Francis of Assisi
#148. "We make a living by what we get, but we make a life by what we give." —Winston Churchill
#149. "Kind words can be short and easy to speak, but their echoes are truly endless." —Mother Teresa
Thank You Messages For Teacher
#151. These thank you quotes for teachers are the best way to say thanks to those with the grandest hearts. Use these words in addition to a personalized gift to show your appreciation to your teacher.
#152. You have had such a positive impact on the lives of your students. We are so glad that you were our daughter's teacher.
#153. "Better than a thousand days of diligent study is one day with a great teacher." —Japanese Proverb
#154. A teacher affects eternity: he can never tell where his influence stops." —Henry Adams
#155. "The influence of a teacher can never be erased." —Anonymous
#156. Teachers are overworked and underpaid—and that has never been truer than during this global pandemic where the school year was anything but traditional. Sending your child's teacher a note of thanks acknowledging all that they've done to help your son or daughter is a meaningful gesture that will be greatly appreciated!
#157. Not all superheroes wear capes! You are a super teacher, and our kids benefitted from your superpowers this year!
#158. Thank you for creating such a fun and encouraging environment. I know that this school year was especially difficult due to the pandemic, and you went above and beyond to make this year as normal as possible for my son!
#159. This school year has been full of ups and downs, but you have remained a constant in your students' lives. Thank you so much for all that you've done!
Thank You Messages for Treat
#161. When someone hosts a party in your honor or welcomes you into your home as a house guest, it is a nice touch to thank them with a personal note. Try using one of these thank you examples.
#162. We had so much fun this weekend at your house. The weather was perfect for a pool party, and we were so happy that you invited us over to spend the day.
#163. It was a wild party last night but I don't regret anything because I enjoyed your company the whole time. Thank you for the treat!
#164. Thank you so much for the treatment last night. The cake was just as sweet and fabulous as you. Thank you for all the happy moments!
#165. You and your delicious plates of cookies just made my day yesterday. Thank you for such a surprising treat, my dear!
Thank You Quotes for Veterans
#167. There are no words grand enough to thank those who have sacrificed everything but, saying something is far better than saying nothing at all. These thank you quotes for veterans will help you show your appreciation.
#168. "There are not words big enough. There is not a hug strong enough. There is not a smile wide enough. All I can offer is thank you. You are my hero. You are in my thoughts. You are in my prayers. For all you've done, thank you." —Anonymous
#169. "Some people dream the dream. Some people live the dream. Some people defend the dream. God bless the defenders." —Anonymous
#170. Thank you for serving our country and protecting our freedoms."
#171. "Home of the free, because of the brave. Thank you." —Anonymous
#172. "The willingness of America's veterans to sacrifice for our country has earned them our lasting gratitude." —Anonymous
Funny Thank You Quotes
#174. Say thank you with a smile! These light-hearted and funny thank you quotes are sure to do the trick and keep your loved ones in good spirits. These appreciation quotes are heartwarming while also keeping it light, so you can use them for everyone from your friends to family and coworkers.
#175. "Let us be thankful for the fools. But for them the rest of us could not succeed." —Mark Twain
#176. "There's always something to be thankful for. If you can't pay your bills, you can be thankful you're not one of your creditors." —Anonymous
Thank You Card Messages
#178. Your kindness and inspiration did not go unnoticed this year, especially during these unprecedented times. Thank you for being so patient with your students.
#179. I have been saving up for a PlayStation and the gift card you gave me has put me one step closer. Thanks so much!
#180. How can I say thanks in a way that will express the gratitude I feel. How about a hug?
#181. I don't know how you did it, but you chose a perfect gift for a very picky person. Congratulations! And thank you!
#182. You know I love my coffee! I will put this gift card to good use each morning!
#183. Whether you have received a monetary gift yourself or an offering was given to a charitable event on your behalf, it is still proper etiquette to send a note of thanks. Try one of these thank you examples.
#184. My hand is writing this message because the bottom of my heart cannot hold a pen. I am very much grateful, from the bottom of my heart.
#185. You are one of the most generous people I know, and I know a lot of people. Thank you!
Thank You God Quotes
#187. If you're religious, including thank you lord quotes or thank you God quotes is a nice touch to show your family what matters the most. Share your thankfulness for everything you've been blessed with the past year and celebrate with friends and family in a special greeting card.
#188. Giving thanks to God is a great way to highlight your faith through your thank you cards or Christmas cards. We've compiled some of the best quotes for giving thanks to God, what a blessing.
#189. "Thank you God for all your blessings to me and my family. For the strength, you give me each day and for all the people around me who make life more meaningful…" —Anonymous
#190. "Thank you God for everything in my life. The good and the bad. Some were blessings and some were lessons." —Anonymous
#191. "Thank you God for blessing me much more than I deserve." —Anonymous
#192. "God will make a way when there seems to be no way. Thank you, God."
We've compiled a selection of sample thank-you letters that can be used for a range of occasions as a reference. These examples include everything from how to express gratitude to a teacher during COVID to how to express gratitude to a neighbor for their consideration.
Teachers give so much to us and our children on a daily basis, and they deserve to be recognized and thanked for their efforts. Send them a holiday greeting card, together with a short thank you message, to convey to them that all of their hard work has been worthwhile. If you're stumped for ideas on what to write, think about putting a thank you quotation for teachers – they'll enjoy these straightforward sayings that acknowledge their efforts.
Living a good life requires giving thanks and expressing gratitude, both of which are essential components. A rewarding experience can be had at any time of year when we find the perfect means to express our gratitude to others for their kindness, or even when we simply remind ourselves of how much we have to be thankful for. We hope that these thank-you quotations will serve as inspiration for you, whether you're writing a personalized thank-you letter to key employees or sending thank-you cards to recipients after the holiday season has passed. We hope that our selection of gratitude quotations and thank you words will help you to personalize your thank you notes.
Using a handwritten thank you note to express your gratitude is one of the most personal ways to express your gratitude. It shows that you care. Including a little thank you quote will make the time and effort you put into penning your sentiment even more apparent. Make a point of incorporating a statement into your card that is more than just "Thank you."
Whenever we are able, it is critical to express our thankfulness, and it is even more critical to recognize the great impact that a simple "thank you" may have on someone else's day when we do so. Thanks for anything someone has done will not be forgotten if you take the time to seek them out and express your gratitude for their efforts. You can gain inspiration for your thank you card sentiments from the words of others. You can also use their comments to draw attention to the features of your card recipients that you admire the most. Thank you quotes and sayings, when delivered to the appropriate recipients, can go a long way toward encouraging them. Making someone else feel good by sending them a card of thanks will not only make you feel good, but it will also make them feel good about themselves.