Hilarious Minions Quotes: Hello, everyone! Here we are again with some funny, cute, and adorable minion quotes that are sure to make your funny bone really laugh out loud. Minions are loved by everyone because, despite how cute they look, they always do things that are both very childlike and hilariously strange. Some of the most memorable parts of the movie are these hilarious lines and quotes from the Minion characters. The adorable and naughty yellow creatures from the Despicable Me films are the focus of their own feature film, titled Minions. The Minions have finally gotten their own movie, and in it, they are making us laugh with hilarious lines and hilarious quotes.
Funny Quotes on Minions – Even though the minions mostly communicate with each other in their own language, they still have the ability to make us laugh. The following compilation of the best quotes from Minions is sure to put a smile on your face today. The following are some of the most hilarious picture quotes from the Minions, which are not only funny but also easy to relate to and a lot of fun to read. It's time to go overboard with the adorableness that these little yellow creatures have to offer in the form of quotes from The Minions. I really hope that each of you enjoys these!
1. "This is torture! Guys, cut it out! This is really unprofessional!" – Herb Overkill
2. "King Bob!" – Bob
3. "At night I can't sleep In the morning I can't wake up?"
4. "Some people just need a hug, Around the neck with a rope….LOL Minions Quotes"
5. "Herb, seriously, I want to dig up that William Shakespeare so he can see what true writing is. I love it!" – Scarlet Overkill
6. "You stole my dream. I was going to conquer England someday. There was going to be a coronation, and I was going to be made queen. Every moment was planned. I'd wear a dress so sparkly it glowed, and everyone who ever doubted me would be watching and they would be crying. I was going to be the picture of elegance and class, and you pinheads screwed it up!" – Scarlet Overkill
Hilarious Funny Awesome Minions Picture Quotes
7. "Mind the gap! Mind the gap! Mind the gap!" — Minions, Bob, Stuart and Kevin
8. "I think, yes, I think we're gonna have to break up. And it's not you … oh, wait hold on … It is you. It's a hundred percent you!" – Scarlet Overkill
9. "Oh. It's you. Everyone, this is one of the little fellows who stole the monarchy from me. And how's that working out for you?" – The Queen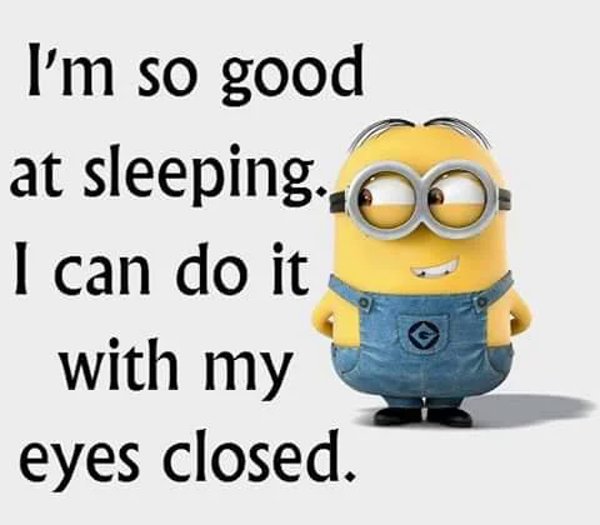 10. "Live, Laugh, Love If that doesn't work Load, Aim and Fire." -Best Minions Quote
11. "If only losing weight was as easy as losing my keys, temper or even my mind. I would be so skinny!"
12. "Does anyone else put things in a safe place and forget then where that place it"
13. "Stay an extra hour in office and no one cares, Arrive at 9.05 and every one loses their minds."
14. "A balanced diet is chocolate in both hands."
15. "Oh Walter, look, these adorable little freaks are headed to Orlando too!" – Madge
16. "So that's your plan? Make yourself a bigger target?" – Scarlet Overkill
17. "Don't Judge me I was born to be awesome."
18. "Biboli maaaa! Bohayinaaa – ah no nooo!" – Minions
19. "It's Monday! Time to take over the world,"
20. "Walks into room and forget? Happens with you all?"
21. "Strange Facts – The Minions Quote"
22. "Just because I'm awake doesn't mean I am functioning at full capacity."
23. "Every time I lose some weight I find it again in the refrigerator."
24. "You think it's funny to mock the elderly, do ya?" – Keeper of the Crown
25. "Oh, it's so beautiful. So fashion forward. So Valentino." – Scarlet Overkill
26. "I'm sorry I didn't realise that you're an expert on my life and how I should live it."
27. "I am on step away from being rich, all I need now is money."
28. Don't forget to also read these funny Dazed and Confused quotes from the classic cult.
29. "My doctor asked me if I had a stress test? Yes – I replied It's called Life"
30. "Does anyone else have a plastic bag full of plastic bags in their house?
31. "I'm out of order until further notice. My stupid people filter needs cleaning and my "give a damn" batteries have run out"
32. "So get comfortable, Minions. Get real, real comfortable. Because this is where you're going to spend the rest of you worthless, little lives." – Scarlet Overkill
33. "If you have an opinion about my life, please raise your hand, Now put it over your mouth."
34. "Does Anybody else have a voice in their heads that repeats, "SLap the IDiot."
35. "We were born with flippers! … No? Just me? Okay." – Frankie Fishlips
36. "Are you really going to allow that little penguin to make off with my crown?" – Scarlet Overkill
37. "Poglobe?" — Stuart
38. "I'm an odd combination of really sweet and don't mess with me."
39. "Hello, Fred. FYI, your dog has been leaving little bombs all over my yard, and I don't appreciate it." – Gru
40. "Steal me the crown, and all your dreams come true. Respect power!" – Scarlet Overkill
41. "Sometimes, my greatest accomplishments is just keeping quiet."
42. "No no no no, Kevin, let me do it, let me do it, spita." – Stuart
43. "I've use up all my sick days so I'm calling in dead."
44. "Ciao, le poochy." — Bob
45. "England! England! England!" — Minions
46. "Bello." – Kevin
47. "And that is how the Minions found their new boss! He was cunning! He was evil! He was perfect! He was … despicable!" – Narrator
48. "I have been on a diet for two weeks, and all I have lost is 14 days."
49. "Have you ever just looked and automatically felt annoyed?"
50. "By the time she was she built a criminal empire!" – Tina
51. "This is Queen Elizabeth, ruler of England. I love England. Their music, the fashion. I'm seriously thinking about overthrowing it someday. Anyway. This pale drink of water oversees it all. I'm her biggest fan, loved her work. And I really, really, really want her crown!" – Scarlet Overkill
52. "And once the moon is mine, the world will give me whatever I want to get it back! And I will be the greatest villain of all time! That's what I'm talkin' 'bout." – Gru
53. "You have no idea who you're messing with! I am the greatest supervillain of all time!" – Scarlet Overkill
54. "Minions! Minions have been on this planet far longer than we have. They go by many names, Dave, Carl, oh, that one is Norbit. He is an idiot. They all share the same goal: To serve the most despicable master around." – Narrator
55. "I hate the part of the morning where I have to get out of bed and participate in real life."
56. "This is what my last nerve looks like"
57. "Kevin felt pride. He was going to be the one to find his tribe the biggest, baddest villain to serve. Stuart felt hungry, mostly. He was going to be the one to eat this banana, and Bob, Bob was frightened of the journey ahead." – Narrator
58. "I'm a member of the CSI Team."
59. "Exercise? I thought you said "Extra Fries."
60. "Why is it called beauty sleep, when you wake up looking like a troll."
61. "Of course women don't work as hard as men.. They get it right the first time."
62. "When you are in pain is just an example of how strong you are as a person."
63. "Mi bellas!" – Stuart
64. "I don't want you to take this the wrong way, but I hate you. I thought I could get over what you did, but I feel so betrayed." – Scarlet Overkill
65. "I'm not cold hearted, I'm just tired of getting screwed over."
66. "I'm Tired"
67. "Hahaha poli tismas! Ipe de buteee!" – Minions
68. "Some people call me crazy, I prefer the term happy with a twist."
69. "I'm a proud supporter of messy hair, no make-ups and Pj's all day."
70. "I don't think people understand how stressful it is to explain what's going in your head when you don't even understand it yourself."
71. "People say everything happens for a reason, so when I punch you in the face, remember I have a reason."
72. "Villain-Con!" – Bob
73. "The Only exercise I have done this month is running out of money."
74. "God promised men that good and obedient wives would be found in all corners of the world, then he made the world round."
75. "It's been a rough week but on a positive note.. I didn't need any bail money and didn't have to hide any bodies."
76. "When, I find it, I don't need it When I need it – I can't find it."
77. "I sleep less, I'm tired I sleep more, I'm Tired Life is Impossible Guys!"