Happy Teachers Day Wishes Messages, and Quotes – teacher appreciation. Feel free to pick and select what you want from the teacher's day messages and modify them to suit your needs. Take inspiration from this post to write your own heartfelt, polite, and inspiring teacher's day greeting or note to express your gratitude to your favorite teacher on this happy teacher's day.
World Teachers' Day is celebrated on October 5th each year to recognize the important role that teachers play in education. Celebrate Teachers' Day by conveying your appreciation with heartfelt wishes, messages, and social media statuses. Wishes Dear teacher, without your guidance and wisdom, I would not be where I am now! Thank you and happy teacher's day!
Teachers shape your personality and career at every stage of life, whether it's in elementary school, high school, college, or university. Their impact on the lives of millions of people is indescribable. See more ideas quotes about teacher quotes, teacher appreciation quotes, congratulation messages, thank you teacher messages, happy teachers day.
Happy Teachers Day Wishes
#1. Happy Teachers Day! Attending your classes is the highlight of my day!
#2. You have always been an excellent educator who knew how to illuminate a soul with its light. Happy Teacher's Day to my favorite teacher!
#3. Deep thanks for your selfless dedication, support, patience, and love. You will be remembered in the years to come. Happy Teachers Day!
#4. To all the teachers and life lesson givers; I love you and am grateful for having you along on this joy ride of life. Happy Teachers Day!!!
#5. Thank you, Teachers! We love you, we appreciate you and we need you! Keep making us smile! Happy Teachers Day!
#6. Dear teacher, thank you for always guiding me. Happy Teachers Day!
#7. What I am today is all because of you, teacher! Happy Teachers Day to you!
#8. Wishing you joy and happiness, you are an amazing teacher, and you only deserve the best.
#9. Dear teacher, We all came here to thank you for all your patience and hard work put into us!
#10. Every teacher that you have met in your life is a different kind of dish that sometimes you like to eat and sometimes not. Wishing a happy teacher's day to everyone!
#11. A student could be disobedient but a teacher could never be. Happy teacher's day to everybody!
#12. Most of the time, every student in their life might have hated their P. T teacher! Wishing happy teacher's day!
#13. Always listen to your best teacher. They have some best-hidden advice for you. Happy teacher's day to all!
Happy Teachers Day Messages
#15. Thank you for making us what we are today. You've made a wonderful difference in our lives! You are appreciated! Happy TEACHERS day!
#16. HAPPY TEACHERS DAY to everyone who taught me something, from textbooks to life lessons. Have A Happy Teachers Day.
#17. Thank you so much for brightening our day with your beautiful smile, every day! Your positive energy helped us so much to survive our College days! Happy teacher's day!
#18. We are grateful for your professionalism and the will to transform the world through education. Happy World Teachers Day!
#19. Dear teacher, thank you for planting the seeds that are going to last a lifetime! I love you for everything you have ever done for me, happy teachers day!
#20. Teaching is the best profession anyone can ever have. I feel really lucky to have you as my teacher. Happy teacher's day! Wish you have a wonderful time today!
#21. I feel so blessed to have a teacher like you who not only pushes me towards achieving my goal but also supports me in every step. Today I celebrate you for being selfless, devoted, hardworking, and the wisest person in the classroom. I am grateful to be your student. Happy Teacher's Day!
Teachers Day Wishes From Students
#23. You are the best Teacher in this world. Wherever I may go in my life, I will always remember that I had an excellent guide in the form of a teacher, you.
#24. Dear Teacher, Thanks for inspiring hope in me; Igniting my imagination; And instilling in me – a love of learning. Happy Teacher's Day 2022!
#25. With a great teacher like you, I was sure that life would be a successful journey but I never knew you will also make the journey to success such a cakewalk. I can't express my gratitude, Sir!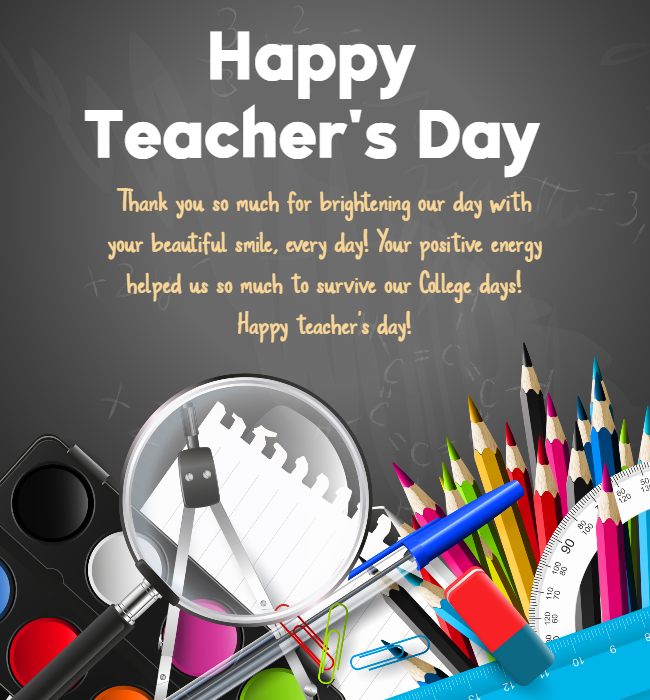 #26. To someone who has taken the time to listen to my concerns, guide me on the path to knowledge, and reassure me on my life's path. Happy Teacher's Day!
#27. You inspired me to reach my goals and achieve my dreams. More importantly, you inspired me to be you. Thank you, teacher. Happy Teacher's Day.
#28. May all the desires and wants of you get fulfilled. From the bottom of our hearts wishing you a happy teacher's day!
#29. Teachers are the parents who guide you without any ulterior motive. I thank you, dear teacher – for being my strength and inspiration! Happy Teacher's Day!
Teachers Day Quotes
#31. "It is the supreme art of the teacher to awaken joy in creative expression and knowledge." – Albert Einstein
#32. "Teaching is the profession that teaches all the other professions." – Unknown
#33. You have to grow from the inside out. None can teach you, none can make you spiritual. There is no other teacher but your own soul. – Swami Vivekananda
#34. You cannot teach a crab to walk straight. –Aristophanes
#35. All teachings are mere references. The true experience is living your own life. –Ming-Dao Deng
#36. It's the teacher that makes the difference, not the classroom. – Michael Morpurgo
#37. Teaching is the highest form of understanding. –Aristotle
#38. Education is not preparation for life; education is life itself. – John Dewey
#39. "The mediocre teacher tells. The good teacher explains. The superior teacher demonstrates. The great teacher inspires." – William Arthur Ward
#40. "If a country is to be corruption-free and become a nation of beautiful minds, I strongly feel there are three key societal members who can make a difference. They are the father, the mother, and the teacher." – Dr. APJ Abdul Kalam
#41. The dream begins with a teacher who believes in you, who tugs and pushes and leads you to the next plateau, sometimes poking you with a sharp stick called 'truth'. – Dan Rather
#42. Teaching is only demonstrating that it is possible. Learning is making it possible for yourself. –Paulo Coelho
#43. When one teaches, two learn. –Robert Heinlein
#44. What sculpture is to a block of marble, education is to a human soul. – Joseph Addison
Teachers Day Wishes From Parents
#46. You are the star of god madam. You are in our life such light that always spreads shimmer of relaxing. Wishing you a lovely happy teachers' day sir!
#47. Your lessons were not just school lessons while life lessons. So thankful we are to you that you are our class teacher. Wishing you a happy teacher's day madam!
#48. On your journey, you never get down. All your roads with flowers sewn. Lots of wishes and happy teacher's day sir!
#49. Dear Teachers, Thanks for making us what we are today. Happy Teacher's Day. God bless you all.
#50. Sending my love and warmth to you, You have not only been a wonderful teacher but also a friend, philosopher, and guide. May you have a memorable Teachers Day!
#51. A good teacher is like a candle burning, It consumes itself to light the way for others. Happy Teachers Day 2022
Teachers Day Wishes to Mom
#53. Great teachers take hands, open minds, and touch hearts. Wishing all teachers a Happy Teacher's Day. Your efforts, commitment, and support for our students are much appreciated.
#54. I am so grateful for the amazing teachers I work with, who make every day laugh out loud even in the busiest of times. It's all about relationships. Happy Teachers Day!
#55. Happy Teachers Day to you! Your dedication is so inspiring!
#56. Wishing you a meaningful and happy Teachers Day ahead!
#57. A big thank you to all the incredible teachers across the world. We admire the dedication, enthusiasm, and hard work you put in every day for your students to have a Bright Future. Happy Teachers Day!
#58. To the teachers who inspire, encourage, and prepare children for a successful and bright future: today, we celebrate you. Happy Teachers Day!
#59. You are the bearer of light in this pit of darkness. Happy Teachers Day!
#60. Happy Teachers Day! Thank you for making your lessons interesting!
#61. It is the constant love-hate relationship of students with their teachers. That's what makes it great. Happy teacher's day!
Inspirational Messages for Teachers Day
#63. There are awards like Nobel and Booker. Why there is not any best teacher's award? Happy teacher's day!
#64. You gave us all the reasons to dream big and all the resources to achieve it. You are a blessing in our life. Happy teacher's day!
#65. Thank you for teaching me a subject I thought I could never understand or be interested in. Thank you for making learning fun. Happy Teacher's Day!
#66. Thanks for always taking care of us and reassuring us that all of us were doing okay; you are the worlds' best teacher! Thank you for everything!
#67. Mere words could never express my gratitude to you for truly caring and being there for me. Thank you for teaching me lessons that I will carry throughout my life's journey and giving me fond classroom memories that I will treasure forever.
#68. To my favorite teacher. You have helped me in more ways than simply enriching my basic knowledge. You have also helped shaped me into the person I am today and for that, I will always be thankful!
Happy Teacher's Day Card Messages
#70. TEACHER is a full form of, T-Talent, E-Education, A-Attitude, C-Character, H-Harmony, E-Efficient, R-Relation. Wishing you a glorious and happy teacher's day!
#71. The way you teach… The knowledge you share… The care you take… The love you shower… Makes you the world's best teacher… Happy Teacher's Day!
#72. No words can truly say how I feel about my favorite teacher. You have been there for me, cheering me on when I was on the right path and pulling me back on it when I went off-road. You are the best teacher a student could ever ask for! For that and many other things, I want to thank you!
#73. I'm sure there were days when you probably wanted to kick me out of class, and I probably deserved it, but through the good and the bad, this has been the best school year ever and you have been an awesome teacher. Thanks for putting up with me.
#74. [ Teacher's name ], you are truly beautiful inside and out. God knew what he was doing when he chose you to become a school teacher. I'm so thankful for all of your help and encouragement. You came into my life when I needed you the most.
#75. Thank you for all you do our esteemed teachers, God bless you. Happy Teacher's day 2022!
Funny Teachers Day Messages
#77. This card is to thank our most amazing teacher ever. You have been a moral and spiritual guide for all of us and you have made an invaluable and precious impact in our lives. Thank you from all of us!
#78. You are a very special teacher who has taught me more than just the basic subjects. You have also taught me about growing and learning as a person and finding confidence. Thanks to you, I have a new outlook on life and you will always be remembered for it.
#79. I still stand by my story that I knew nothing about the tack that you found in your chair or how the frog got in your desk, but I wanted to thank you for always putting up with me and teaching me patience. I learned from the best because you have the patience of a saint!
#80. Without you, I would be lost. As a teacher, you have guided me in the right direction while inspiring me to be the best that I could be. I will always remember the knowledge and skills that you have gracefully given to me.
#81. Even though you told my parents about the [glue/pen/rubber band / xxx ] incident, you are still my favorite teacher. I've had a lot of fun in your class and I may have accidentally learned a few things too.
#82. You taught me discipline. You taught me friendship. You taught me so much more than just [ subject ]. And for many different reasons, I want to say thank you to the best teacher I have ever had!
Happy Teacher'S Day Greetings
#84. Thank you for believing in our daughter's dreams. As a teacher, you have provided our child with the nurturing space and material resources to plan a strategy to make her dreams possible. This is a gift that only a special person such as you could have given. Thank you.
#85. We are writing to thank you for the astounding job you provide our children. Young people are not always easy to handle, but your patience and firmness have made a huge difference and we thank you for establishing healthy boundaries and creating an environment of trust.
#86. Thank you for being such an impressive and sincere teacher, guide, and friend. It takes a lot of courage and strength to shape the youth of today into the future of tomorrow. Your efforts have changed my life.
#87. Thank you for being such an excellent teacher who has succeeded in creating an environment of enthusiasm for learning, appreciation, growing, and plenty of room for mistakes along the way. You have had such a positive impact on my life and I thank you.
#88. Thank you, Beatrice. You have made a great difference for all of our children. Because you care so much about them, you have directed them to trust themselves in all that they do and to become all that they dream.
Congratulations Messages For Teacher Day
#90. There's no nobler a cause than to teach children, conveying the knowledge of our ancestors to them. Dear teacher, you did it the best and we are really happy that you were our Mentor, with a capital "M".
#91. When it comes to expressing your appreciation to teachers, here's the drill: if the words don't come easily, stop and think of one specific thing you can appreciate about him or her.
#92. It could be the smallest thing. Anything.
#93. If nothing comes, no worries: this page is full of simple, effective, straight-from-the-heart actions and handwritten notes that will convey your appreciation to your teacher, maybe better than you can.
#94. Happy teacher's day! It has been an honor to get to learn so many things from you; thanks for inspiring me!
#95. Good teachers are hard to find and we were really lucky to have you as our teacher. You made us want to become better students and better persons. That means a lot.
Heart Touching Thank You Messages For Teacher
#97. You have supported me immensely in my topsy-turvy academic life. You showed to the rest of the world that even a kid with a problem like dyslexia can make big in the competitive world. Happy teachers day!
#98. It's your ability to understand the mindset of every mindset that makes you stand apart from the rest of the teachers. Happy teachers' day!
#99. I still remember the day when you personally called me and said," you are destined to achieve great things kid." Thank you, my mentor, for believing in me. I wish you have an unforgettable teachers day celebration.
#100. No one works as hard as a teacher yet teaching is one of the most under-appreciated jobs in the world. Happy teachers day 2022!
#101. When everyone rejected me, you were the only one who had full faith in me and brought the best out of me. Happy teacher's day!
#102. Teachers are heroes without capes. They deserve all the love in the world. We appreciate our teachers, who are building lives in every classroom around the world. Happy Teachers Day 2022!
#103. Without you, I would have been lost. Thank you, sir, for guiding & inspiring me, & making me what I am today. Happy Teachers Day!
#104. I can't give you a visit on teacher's day but my wishes will reach you at the right time to seek your blessings. Wish you a great time on the occasion of teacher's day!
#105. We always remember you mam; that is how you hold on to us and never give up; you know that we have potential; that you believe in us; thank you for that. happy teacher's day madam!
#106. We are so thankful to you; that every day you tell us remarkable stories of ordinaries; you are a true teacher in every sense; one day we make you proud; and that day, you hold your ground; 'cause you gonna fly; wishing you our love and happy teacher's day madam!
Teacher Appreciation Quotes to Say Thank
#108. You are always there to guide us, we know; if any problem we have, you solve us; you are the star zenith who always inspires; our love and respect for you undying; wishing you best happy teacher's day sir!
#109. One day we all leave this school, but you in us forever remain; and perhaps we in your too; we are not that many obedient students of you, but we follow every command of you; your beatings are blessings for us; wishing you a great happy teacher's day madam!
#110. We wish you get all in your life; more than you expect and you forever rise; no harm could touch you and destroy; reading with you sir is a forever joy; wishing you a happy teacher's day!
#111. A Good Teacher Finishes With Syllabus. A Great Teacher Demonstrates With Practicals. A 'Legendary Teacher' Inspires With Life Lessons. Happy Teachers Day!
#112. Happy teacher's day to all teachers without whose effort we are nothing…. Your blessings are one of the precious things in our life…
#113. A Teacher sets, Our Foundation. A Professor raises Our Knowledge, to the Skies. Happy Teachers Day!
#114. Best teachers in life are a boon from God. And as we have said you must always listen to your best teacher. We have drafted teacher's day wishes that you can send to your teacher or to whomever you understand your teacher in this post.
#115. Never leave us in the middle of the path; while you teaching how to cross it; we will one day as you say; but today be our light, teacher; wishing you happy teacher's day madam!
#116. As you may have guessed, changing schools in the middle of the year is never a good situation for any student, but it can be disastrous for an athlete. Such was not the case for Tim this year, thanks to you. We do appreciate your constant encouragement, your competent coaching, and your efforts to see that the college scouts take a look at your athletes. What more could parents ask?
#117. Bruce has been taking swim lessons for three years, but it wasn't until he enrolled in your class that he finally conquered his fear of water. I really appreciate your being so patient with him and working so hard to boost his confidence. The additional instruction you gave him after class really made a difference. Bruce is already looking forward to taking your Level class next summer.
#118. We so much appreciate the special attention you have given to Kelly while he has been hospitalized off and on throughout the year. As you know, such extended absences can play havoc with a child's relationships with other students, and you have been particularly sensitive to making Kelly feel a part of the group when he was able to be in class.
#119. You have carved our future nice; you are an epitome of intelligence fine; may you achieve all the milestones in your life; you are our intelligent teacher with a class; wishing you a happy teacher's day!
#120. Such humble you are; that when anyone sees you, say, how kind you are; we all wish you happy teacher's day madam; be our teacher for forever day.
#121. From class first to class eight; you've taught us in every grade; you are the same as a person when we first met; today we wish you a happy teacher's day all great sir!
#122. All the sky is our playground; fly wherever you want; it is your thoughts to us, teacher; you broaden our horizon; thank you teacher; wishing you happiest teacher's day madam!
#123. A river that emerges mysteriously, Enters me, I am a sea, of bitter thoughts. How may I utter a single word, Without her, she is the only source. Bringing down the splashes of wisdom, She teaches me, I am a foolish pot. My mother talks to me And cares a lot. I bow to the goddess of knowledge, sound, And creative thoughts.
#124. For the rest of my life, I'll be extremely thankful for having a brilliant teacher like you. The lessons you have taught will be remembered forever while your inspiration will always give me the strength to succeed.
#125. You taught us patience; you taught us courage; you taught us the truth; you are our beloved teacher of all; we wish you a happy teacher's day and greetings, madam!
#126. You are perhaps the only teachers who taught us ethics and moral values along with giving us the knowledge of subjects. Wishing a very happy teachers day to my favorite teacher!
Happy Teachers Day Congratulations Messages Images and Quotes
Looking for the best Teachers Day Wishes thank you teacher messages and quotes and Happy Teachers Day Wishes thank you teacher images, photos & pictures? Love these Happy Teachers Day quotes pictures that can be used on Facebook, Tumblr, Pinterest, Twitter, and others. Top of the congratulation messages with funny images for good luck on your thank you teacher funny motivational words for a thank you teacher. See more ideas about What to say to a teacher you appreciate? teacher appreciation quotes, congratulation messages, happy teacher's day.