Good Night Text For Her: Whether the two of you are going to be apart for a little while or you just want to wish her a good night, sending your wonderful girl a message that expresses your love for her is the ideal thing to do. Knowing that her real love was the person she spoke to for the day's final conversation is always delightful.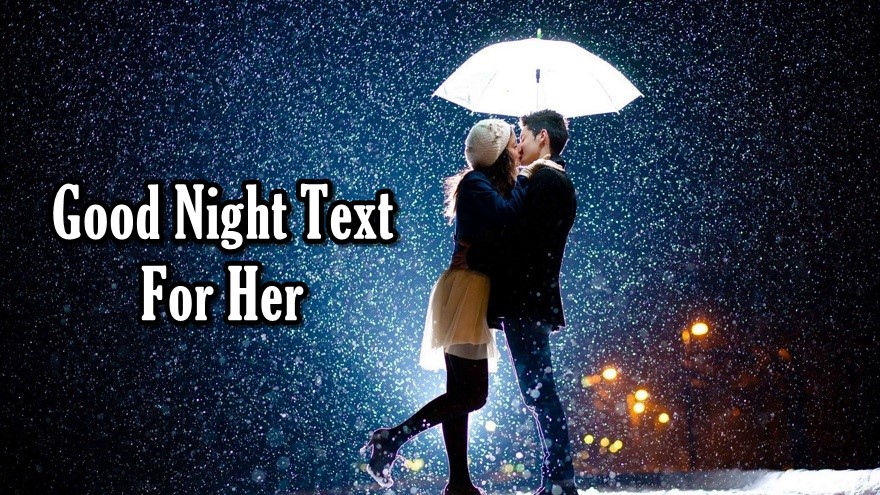 Feeling loved is always lovely, despite the fact that some nights might be long and lonely. Tell her how you feel about her when she is sleeping and possibly having dreams about you.
Check out the alternatives below to find some sweet and unique good night texts for her, then send her your best wishes every night, not just today.
Sweet Good Night Text For Her
1. "May you have a good night's sleep and sweet dreams as your love has filled me with much happiness."
2. "I hope that your life with me is so wonderful that when you're awake, you wonder if you're dreaming, and when you're dreaming, you wonder if you're awake."
3. "Even though you always look like an angel, the look you have when you are asleep is as peaceful as any beautiful flower and the dreams you have should be cherished."
4. "Like the stars which twinkle in the sky, may your dreams be pleasant and sweet with beautiful dreams. Good night my Princess!"
5. "Sending you a sweet good night wish to remind you how much I love you, my dearest angel."
6. "Count the stars, count sheep, count your blessings, and count on me to love you forever."
7. "Good night and thinking of you along with the coziest of hugs, the snuggliest of cuddles, and the sweetest of kisses."
8. "My sweet girl, may you have a lovely sleep and happy sweet dreams to awaken from. Good night!"
9. "Tonight I fall asleep with you with you present in my heart. Good Night my love!"
10. "I hope your dreams are filled with those of your prince: me."
11. "I live for the day that my dream will come true and wake up next to you. Sweet dreams until then my love!"
12. "As the stars keep vigil, may the moon guide you to the land of sweet dreams by its beautiful radiance."
13. "Like prayers drifting heavenward, my thoughts of you float freely through my mind, so that I fall asleep in total contentment."
14. "Love is in the air, so breathe it in deeply, rest peacefully, and know that I'll be dreaming of you tonight."
15. "Like dandelion seeds puffed into the wind, may your thoughts scatter away into the night so you can rest at ease."
16. "Enjoy sweet memories of our day as peaceful slumber overtakes you and fills you with a well-earned rest."
17. "A night so fair, a love so rare, may God's hands keep you in His care. Sweet Dreams my Love."
18. "Good night to the woman who when I think of, I realize all of my dreams are coming true."
19. "Good night my love. You are my blessing from the heavens above and I feel incomplete without you."
20. "My sweet love, wishing you a sweet good night and may you sleep peacefully and full of dreams."
21. "If I were with you tonight, I'd hold you close, take in your beauty, and surround you with sweet love."
22. "Do not sleep restless tonight though I am not there. I'm here right now just wishing you the sweetest of good nights."
23. "May the lullabies of a hundred angels' wings comfort you and keep you as you drift off to sleep. Good night my Princess!"
24. "Tomorrow is a clean slate, a new beginning, a fresh start. Sleep well, my love."
25. "Wishing you a fantastic evening and sending you my love while you have happy dreams."
26. "Blessed memories of a day spent with you rain gently down as I remember and sleep. May your dreams be blessings too."
27. "Good night my sweet girl. The love I have for you makes waking up every morning worth it."
28. "May you always be reminded in your dreams tonight how much I love you and what the future could bring."
29. "I love you like roses love rain, like walking together down memory lane. Sleep tight my Love."
30. "The silence is so quiet without you here by my side, but I wish you a good night and will see you soon."
31. "If any monsters come out from under your bed, they will be mesmerized by your beauty, so don't fear and get some sleep."
32. "As I picture you lying there, my love for you overwhelms me, and I can never put into words how much you mean to me."
33. "I want to make a day for you that's filled with all your favorite things, because you're my favorite thing. I love you and hope your sleep is as wonderful as you."
34. "I'm imagining your beautiful eyes reading this, while your skin glows softly in the light of your phone, and your hair lies gently against your skin. I wish I was there."
35. "Lay your head on your pillow tonight and think of me as you drift off and how much you mean to me."
36. "If I were the sandman, I'd add extra sparkle to your sand, and extra sweetness to your dreams. I hope that your rest is awesome and deep."
37. "Squeeze your pillow, close your eyes, and sleep tight, my beautiful girlfriend."
38. "May you wake up feeling energized and revitalized after a night of sleep, my beauty."
39. "Close your eyes, clear your mind, and listen closely as the stars climb the night sky to hang above your restful sleep. Good Night my dear!"
40. "I hope the dream Fairy waves her wand and drops lovely dreams into your mind. Sweet Dreams my Love."
41. "I realize every night how much I love you and I wish you a good sleep so tight."
42. "I am the luckiest guy ever and when I know you're sleeping, I often can't fall asleep myself because I can't get you out of my mind."
43. "While you sleep, dream of me and know that I will be here today and for always."
44. "As gentle rain refreshes the earth, and the summer breeze quietly blows, may amazing dreams meander through your sleep-filled night."
45. "I hope you sleep well and awaken to find this wish to put a smile on your face for the start of a new day!"
46. "Good night to my love and my everything."
47. "Like a shooting star in the night's sky, I wish my sweet girl immediate sleep and radiant dreams."
48. "May velvety darkness wrap itself around you, comforting you with its silent embrace, as you drift peacefully to sleep."
49. "Tonight, the miracle of love binds our hearts in faith, and comforts us, so that we know we will see each other again."
50. "Our love is a rushing waterfall, loud and strong, beautiful and deep. I long to feel its passion again, but now, my beloved, we sleep."
51. "May your pillow be soft, your blankets be warm, and your mind be filled with thoughts of how much I love you. Good night my Love."
52. "When the night comes sashaying in, dressed up in black satin and a thousand sparkling diamonds, her beauty can never compare to yours."
53. "You're the queen of my world, the sparkle in my night sky, the sunshine on my picnic. I love you. Sleep well my Love!"
54. "Open your heart, and close your eyes. Feel my love reach beyond the skies."
55. "Feel this sweet goodnight kiss and when you open your eyes, I'll kiss you again right after sunrise."